Things look quite bright for Medifast, Inc. MED, which has seen its shares rally as much as 37.9% in the past year, compared with the industry's rise of 8.4%. The company also surpassed the Zacks Consumer Staples sector and the S&P 500's respective increases of 14.1% and 34.5%. The Zacks Rank #2 (Buy) company has been benefiting from strength of its OPTAVIA lifestyle solution and coaching support system and strategic growth endeavors.
These upsides drove Medifast in the second quarter of 2021, wherein earnings and sales cruised past the Zacks Consensus Estimate and witnessed significant year-over-year growth. Encouragingly, Medifast raised its 2021 guidance. The Zacks Consensus Estimate for its 2021 earnings has moved up from $13.74 per share to $13.83 over the past 30 days. Let's delve deeper into the factors working in favor of this manufacturer and distributor of weight loss, weight management, healthy living products, and other consumable health and nutritional products.
MEDIFAST INC Price, Consensus and EPS Surprise
MEDIFAST INC price-consensus-eps-surprise-chart | MEDIFAST INC Quote
Splendid Q2 & Raised Guidance
The company posted earnings of $3.96 per share, which beat the Zacks Consensus Estimate of $3.30 and surged a whopping 112.9% on a year-over-year basis. Net revenues of $394.2 million soared 79.2% year over year and beat the Zacks Consensus Estimate of $366 million. Strength in OPTAVIA is a key driver, with average revenue per active earning OPTAVIA coach increasing 13.9% year over year.  We note that consumers' increased inclination toward health together with a solid OPTAVIA coach-based model has been helping Medifast gain new clients. The company is committed to making further investments to improve its infrastructure in order to aid growth. Management now anticipates revenues of $1.425-$1.525 billion for 2021. Full-year earnings per share are envisioned to be $12.70-$14.17. The company earlier anticipated revenues in the range of $1.4-$1.475 billion. Full-year earnings per share were anticipated in the band of $12.69-$14.14. For full-year 2020, revenues and earnings per share came in at $934.8 million and $9.14, respectively.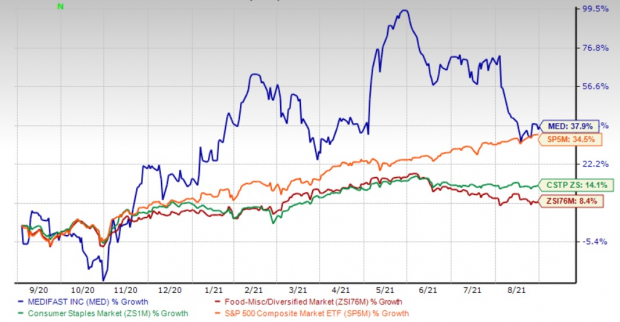 Image Source: Zacks Investment Research
OPTAVIA – a Key Driver
Medifast's second-quarter 2021 performance can be attributed to exceptional growth at its independent OPTAVIA Coaches, which reached new highs as well as efforts to improve the productivity of these Coaches. During the quarter, OPTAVIA-branded products accounted for 94.1% of consumable units sold, up from the preceding quarter's 88.9% and the year-ago quarter's 83%. Total active earning OPTAVIA Coaches jumped 62.2% to 59,200. The average revenue per active earning OPTAVIA coach increased 13.9% to $6,662, up from the year-ago quarter's $5,851. The company, on its second-quarter earnings call, said that it expects demand for OPTAVIA-branded products to accelerate in the quarters ahead. OPTAVIA follows a holistic approach by focusing on six key areas of a human being, namely weight, eating and hydration, motion, sleep, mind and surroundings. Further, OPTAVIA combines scientifically-proven programs, effective products as well as guidance from its coaches to help consumers lead a healthier lifestyle.
Growth Endeavors on Track
Medifast has been undertaking a number of measures to drive growth. The company has been speeding up its long-term supply-chain efforts to ensure that it is able to manage the expected growth in the next few years. To this end, Medifast is focused on optimizing and increasing capacity by strengthening its network of co-manufacturers. This helped the company achieve its manufacturing capacity target of $2 billion ahead of plan, in the second quarter of 2021. Further, the company is expanding its distribution network via expansions in existing facilities along with building on current 3PL relationships and alliances to set up a distribution system, which is in line with its manufacturing capacity.
Apart from this, Medifast is focused on making technological investments, as part of which it opened a new technology center in Utah at the start of 2020. We note that OPTAVIA Coaches have been focused on utilizing technology, including the company's own app-based platforms along with social media channels and field-led training platforms. Incidentally, the company announced the launch of the OPTAVIA app, which is likely to enhance clients' experience with Lean & Green recipes along with access to past order record; auto-ship details and account information, among other things. The OPTAVIA app, rolled out in late July 2021, marks the company's first innovation that stemmed from its strategy of focusing on digital products and technology. Apart from this, Medifast's Connect App has been working well for Coaches on the go.
Certainly, the relevance of the company's offerings amid an environment where consumers are choosing health and wellness options has been an upside. Medifast's constant focus on developing tools and programs to increase the efficiency of coaches has been yielding results.
3 Other Delicious Food Picks
J&J Snack Foods JJSF sports a Zacks Rank #1 (Strong Buy), at present, and its bottom line outpaced the Zacks Consensus Estimate by a wide margin in the preceding four quarters, on average. You can see the complete list of today's Zacks #1 Rank stocks here.
Celsius Holdings CELH, carries a Zacks Rank #1 at present, and its bottom line outpaced the Zacks Consensus Estimate by a wide margin in the preceding four quarters, on average.
Sysco Corporation SYY, currently carrying a Zacks Rank #2, has a trailing four-quarter earnings surprise of 13.3%, on average.
More Stock News: This Is Bigger than the iPhone!
It could become the mother of all technological revolutions. Apple sold a mere 1 billion iPhones in 10 years but a new breakthrough is expected to generate more than 77 billion devices by 2025, creating a $1.3 trillion market.
Zacks has just released a Special Report that spotlights this fast-emerging phenomenon and 4 tickers for taking advantage of it. If you don't buy now, you may kick yourself in 2022.
Click here for the 4 trades >>
Sysco Corporation (SYY): Free Stock Analysis Report
J & J Snack Foods Corp. (JJSF): Free Stock Analysis Report
MEDIFAST INC (MED): Free Stock Analysis Report
Celsius Holdings Inc. (CELH): Free Stock Analysis Report
To read this article on Zacks.com click here.
The views and opinions expressed herein are the views and opinions of the author and do not necessarily reflect those of Nasdaq, Inc.